Kids and Cell Phones
What do you think about kids and cell phones? Today it seems everyone has a cell phone. There is much debate about the right age for a child to have one. As with anything in life, you have to look at your own situation and child in order to decide what's right for you.
What's the right age for kids to get cell phones, and what functions are age appropriate? And what about smart phones with their abilities to download apps (not to mention their additional data plans!)?
These questions are best answered by asking other questions:
How independent are your kids?
Do your children "need" to be in touch for safety reasons — or social ones?
How responsible are they?
Can they get behind the concept of limits for minutes talked and apps downloaded?
Can they be trusted not to text during class, disturb others with their conversations, and to use the text, photo, and video functions responsibly (and not to embarrass or harass others)?
Do they really need a smart phone that is also their music device, a portable movie and game player, and portal to the Internet?
Do they need something that gives their location information to their friends — and maybe some strangers, too — as some of the new apps allow?
And do you want to add all the expense of new data plans? (Try keeping your temper when they announce that their new smart phone got dropped in the toilet…)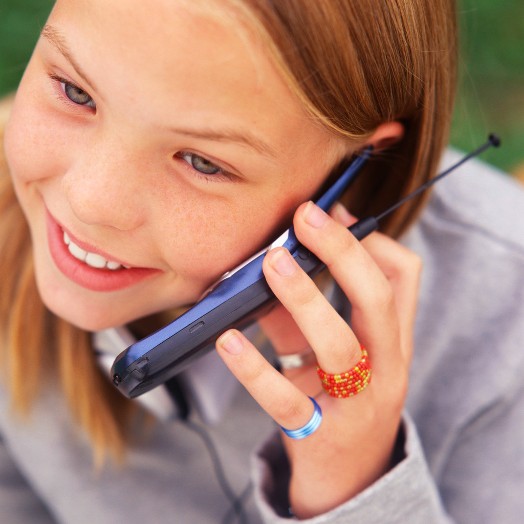 Many cell phone providers have features to help you monitor your child's phone. There are GPS tracking capabilities, text and talk limitations, and web restrictions just to name a few. There is one feature I thought was pretty cool and I only know of Sprint having it, but there could be other companies. Unfortunately I don't remember what the feature is called but here is what it does: Your child's phone can sense when there is motion in a car and actually turns their phone off until the car stops! Isn't that pretty cool? No worrying about if they're texting and driving.
If you decide your child is ready for a cell phone, set the ground rules first.
Buy them a basic phone: Yes, you can still get a phone that doesn't include a camera, Internet access, games, and texting. If you're passing one of your phones down to your child, turn off all the extra features. And if your child complains, remind her that phones are tools, not toys. It's about safety, not social status or games.
Set limits: Most cell phone companies allow you to cap the number of texts a user can send or receive as well as the number of minutes the cell phone can be used. If a child goes over the designated plan amount, have her pay the extra charges. (Older teens can be responsible for their entire cell bills.) You also can block Internet access and calls from unapproved numbers on most phones.
Set more limits: Designate times that the cell phone needs to be turned off — for instance, during family meals, after 10 p.m., and during school hours. If your teen is a driver, insist that he or she not use the phone when driving. Some families don't allow cell phones in children's rooms at night to keep kids from texting or making calls after bedtime. Insist that your child answer your calls and texts right away, and teach your child not to answer or return calls and texts from people they don't know.
Teach good behavior: Children aren't born knowing the rules about how to use cell phones respectfully, including not using them to spread rumors, not taking (or sending) photos without people's permission, not sending inappropriate photos or texts, not having personal conversations in public places – and, of course, never communicating with strangers, no matter how they present themselves. It's up to you to teach them.
CTIA, a wireless industry group, has a sample contract on its web site for family rules on cell phone use.
Let's talk about cost. Here is a comparison chart for the four major cell phone companies: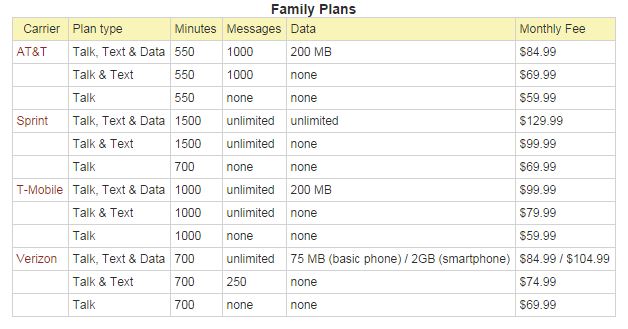 You can click on each chart for a larger view. Here is a link for comparison of parental controls offered by these companies as well.
Now, here is what I think. My child got her first cell phone when she was 13 and it was out of necessity. As a single parent, a cell phone can be a great tool. If I didn't get off work until late and she missed her bus, I knew she would not only have a way to reach family but have all of their phone numbers readily available. It also gave me a way to stay in touch with her no matter where she was. At that time I was making good money and thought I had to have the best. So we had a family plan with Verizon. I can tell you that they are the most expensive cell phone company out there. Do you get bang for your buck? Absolutely. Is it worth it? It's up to you but me, I'm okay with not paying that high price any more.

About four years ago, TracFone started a new branch. Straight Talk is a service provided by TracFone Wireless Inc., America's largest no-contract cell phone provider in the U.S., with over 25 million subscribers. TracFone Wireless is a subsidiary of América Móvil S.A.B. de C.V. ("AMX"). AMX is the leading provider of telecommunication services in Latin America.
I have been using Stright Talk for almost as long as they have been in business.  I couldn't be happier. Each year they are improving on their service and phone selection. They have special offers on their website. At any given time on their website, you can get a free phone with the purchase of a monthly plan. They don't have the added parental controls the other companies have. On the plus side, they are inexpensive, you don't have to worry about overages and most phones come with parental control options.
You can also buy phones and plans for Straight Talk at your local Wal-Mart.
Find Top-Brand Tech for Less at Walmart.com!
Look at your own situation. Weigh the pros and cons, write them down if you need to (remember – visual person here). If you do decide to give your child a phone – set limits and stick to them.