Hearty Slow Cooker Minestrone Soup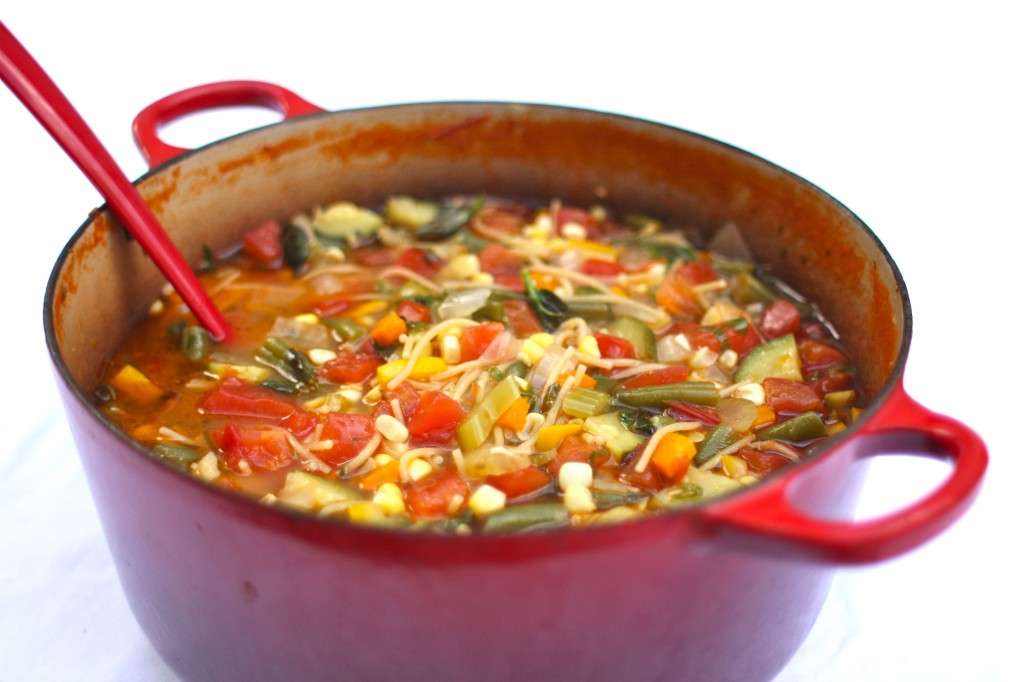 Not got a slow cooker, not to worry, cook it in a pan on the stove for an hour.
Ingredients
100g/3½oz bacon chopped up
2 carrots, roughly chopped
3 sticks celery, sliced
1 onion, roughly chopped
2 garlic cloves, crushed
2 sprigs fresh rosemary, finely chopped
1 tsp dried thyme
1 tbsp tomato purée
400g/14oz can chopped plum tomatoes
1.2 litres/2 pints good-quality chicken stock
400g/14oz can cannellini beans in water, rinsed and drained
50g/1¾oz spaghetti, snapped into short lengths
100g/3½ head baby leaf or any greens, thickly shredded
Salt and freshly ground black pepper
2 tbsp extra virgin olive oil
25g/1oz parmesan, grated
Preparation method
1. Put a large frying pan over a low heat, add the bacon and cook for 10 minutes until crisp, golden and the       fat has run from the meat. Transfer onto a plate.
2. Tip the carrots, celery and onion into the bacon fat and fry for two minutes before adding the garlic, herbs     and tomato purée. Cook for one minute, then add the tomatoes and most of the stock. Bring to the boil.
3. Carefully transfer the soup to a slow cooker, cover with the lid, then cook on high for four hours until the vegetables are tender.
4. Stir the beans and pasta into the soup, adding the rest of the stock if it seems overly thick.
5. Scatter the shredded greens over the top of the soup, then re-cover with the lid.
6. Cook for 30 minutes until the pasta is tender.
7. Stir in the greens, season to taste with salt and freshly ground black pepper, then serve in bowls with a drizzle of oil and plenty of parmesan.